Under Pressure
Since Leonardo Da Vinci first sketched a design for a pressurized chamber in 1495, innovators have been intrigued by the possibilities of pressurized applications. However, it was not until the Industrial Revolution of the late 1800s that pressure vessels were actually constructed and used. Those early models were faulty, dangerous, and required decades of tinkering, redesigning, and material strength breakthroughs to resemble the pressure vessels of today.
Pressure vessels are closed containers that are specially designed to create internal pressures that are higher or lower than ambient pressure. They vary greatly in shape, size, composition, and operating limits depending on the application in which they are used. They can be constructed to contain a range of pressurized liquids or gasses and vapors. Common pressure vessels include, autoclaves, compressed gas cylinders, heat exchangers, pressure cookers, and vacuum chambers.
Pressure Vessel Applications
Most pressure vessels can be sorted into 4 generic categories: Storage, Processing, Vehicular Transportation, and Heat Exchanging.
Storage
One of the most common pressure vessel applications is for storing and dispersing gases and liquids. These vessels can range from massive industrial storage tanks all the way down to small handheld vessels such as asthma inhalers.
Processing
Pressure vessels are crucial to a huge range of industrial processes. They can be used to dry, distill, de-gas, bond materials together, sterilize, cool, crystallize, and more. They are used in manufacturing, food and beverage processing, laboratory research, defense, auto and aerospace…the list is constantly expanding and evolving as technology advances.
Vehicular Transportation
Did you know there are pressure vessels flying overhead almost all the time? Technically, the moment a commercial aircraft reaches an altitude where the outside pressure is different than the inside pressure, it has become a pressurized vessel. Submarines, deep ocean submersibles, and spacecraft also fall into the category of vehicular pressure vessels.
Heat Exchanging
The invention of mechanical cooling has advanced every field of industry and affects every aspect of our lives. Pressurized heat exchangers make modern manufacturing and processing possible. Most industrial processes generate some form of heat. That heat can damage materials, cause delays, and create unsafe working conditions. Heat exchangers' ability to remove waste heat from an industrial process has improved efficiency, safety, and comfort the world over.
Why Pressurize?
Why do so many industries use pressurized vessel tanks?
Convenience
There are a number of reasons why many gasses and liquids are stored in pressurized vessels. Compression allows for a greater volume of storage than if left at ambient pressures, which means you don't need to refill as often and it conserves storage space. Imagine a scuba diver strapping an ambient pressure container to their back that was filled with all the air they would need for hours. It would be enormous, and completely impractical. Pressurized storage greatly eases transportation and maneuverability for a huge range of materials.
Protection
In addition to convenience, pressure vessels can offer a greater level of protection to the materials inside. Pressure vessels provide greater protection from corrosion, contamination, and extreme temperatures that can destabilize the contents.
Material Testing
Pressure vessels can be built to create an internal environment that mimics specific environmental and atmospheric conditions. Before materials and products can be used in extreme environments such as at high altitudes, deep ocean, or in space, they must be rigorously tested to ensure their safety. These chambers allow manufacturers to also test a material's overall integrity including flexibility, structural deficiency, permeability, bond strength and more.
Pressure Vessel Cooling
Vessel Filling
The gas pressure law states that when the volume is fixed, the pressure of a gas is directly proportional to its temperature. So that means when gas is pumped into a rigid container of fixed volume, like a pressure vessel, its temperature will increase as its pressure increases. The opposite is also true, as you release pressure from a pressurized vessel, the vessel will cool down.
Some dive shops will submerge their pressure tanks in water as they fill them, to keep them from overheating and make them easier to handle. That may work for smaller vessels, but how do you chill larger pressure tanks as they are being filled?
Cooling jackets are extremely versatile solutions to this problem and wrap tightly around pressurized tanks to remove waste heat as they are being filled.
Material Testing
Some pressurized vessels are built to simply recreate the same internal environment over and over again. Others are more adaptable and can be connected to various equipment that control changes in humidity, temperature, radiation levels, and other atmospheric conditions. These specialized pressure tanks are crucial in the field of product material testing for extreme environments.
North Slope Chillers Pressure Vessel Cooling Solutions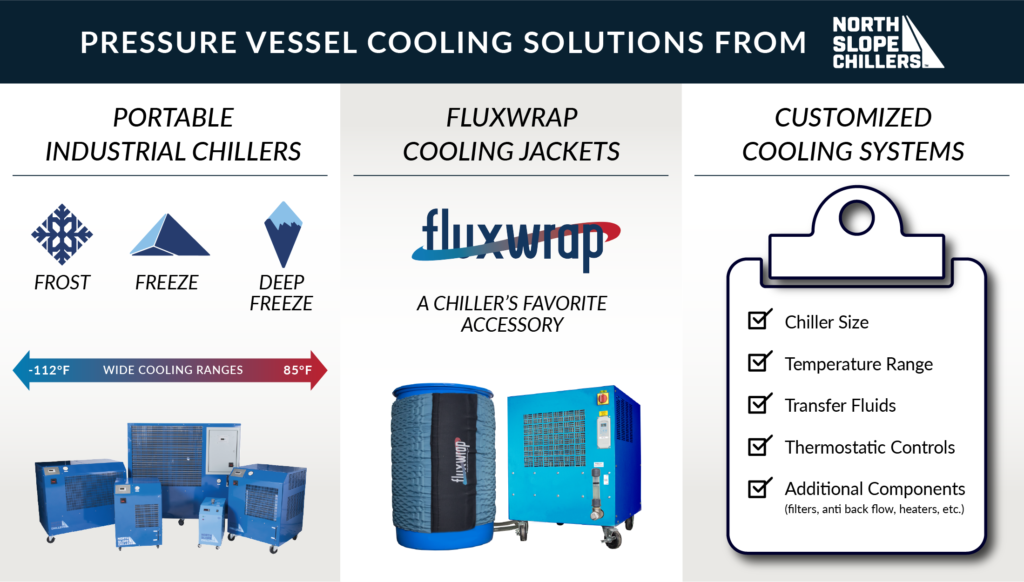 Portable Industrial Chillers
North Slope Chillers' portable industrial chillers will cool down your operation without interrupting the layout of your current system. We offer several levels of industrial water chiller systems that span a wide range of temperatures from 85°F all the way down to -112°F. Easy to install, remove, and relocate, you will be happy to have a compact and efficient chiller that is painless and easy to use.
Fluxwrap
Fluxwrap™ is a versatile fluid temperature control solution for heating or cooling. This proprietary wrap comes equipped with fluid channels that can be filled quickly with either a heating or cooling liquid, depending on your needs. These fluid channels deliver efficient temperature control directly to any surface they surround. Fluxwrap is lightweight, compact, and easily wraps around vessels of all shapes and sizes. It will also conform to uneven surfaces to maintain high thermal conductivity between the wrap and your vessel.
Customized Cooling
North Slope Chillers knows that one size does not fit all. We are proud to offer the most thorough and quickest customized process cooling options on the market. Instead of searching endlessly for the right chiller, or compromising on some of your requirements, why not custom design the exact cooling solution you need? By working with our world class team of engineers you can make sure you find a pressure vessel cooling solution that is designed for your exact requirements.
Contact us today to find the perfect pressure vessel cooling solution for your needs at (866) 826-2993 [email protected]