Brewing beer is as much science as it is art. At the peak of flavor, the brewmaster must know when to cool his beer and stop the fermentation, or it will alter the flavor and alcohol content. With the quality of 1,890 gallons of beer at stake, how can he cool down a 60-barrel fermentation tank quickly and maintain the desired temperature?
The solution is a glycol chiller, the food-safe way to cool food, beverage, chemical, or pharmaceutical processes. It is more energy-efficient than water-based chillers, takes up less space, and requires little maintenance. They don't use water, so there is no corrosion.
In this article, we'll show you how it works, the available types, and why a glycol chiller is an indispensable part of the refrigeration system for many industries.
What is a Glycol Chiller and How Does It Work
A glycol chiller is a specific type of refrigeration system that uses a mixture of water and the food-grade chemical propylene glycol. Industrial glycol chillers use propylene glycol to remove heat during processing beverages, such as beer, wine, and soft drinks. Homebrewers and microbrewers use a technique called crash cooling or cold crashing that takes beer to just above the freezing point to help it clarify before bottling.
Another glycol chiller that reduces temperatures to -112°f (-80°c) uses a different glycol, ethylene glycol. Ethylene glycol is toxic and not a suitable coolant choice where it may accidentally contact food.
How Does a Glycol Chiller Work?
A glycol chiller pumps the glycol through a heat exchanger, or coils, where it transfers heat from the heated tank liquid flowing through the heat exchanger. The refrigerant is then pumped through a second heat exchanger, transferring the heat it absorbed into a separate glycol liquid flowing in a closed loop. The second glycol refrigerant cools the liquid passing through the heat exchanger.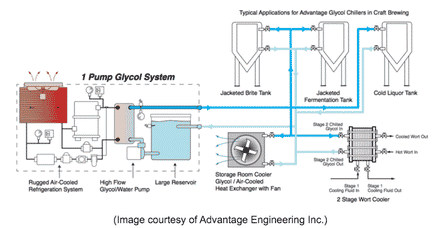 The result is rapid cooling of the liquid contents in large tanks or vessels without contaminating the contents. Achieving lower temperatures requires a higher concentration of glycol to water ratio. You can see a glycol concentrations chart here.
As with most industrial equipment, chillers come in various types and temperatures.
Types of Glycol Chillers and Their Applications
When selecting a glycol system, it's important to understand the different types of chillers and their applications because each has different features and can be used in various industries.
There are three types of glycol chillers: air-cooled, water-cooled, and evaporative.
Air-cooled Chillers:
Air-cooled chillers use only air to cool the fluid running through them, such as milk, wine, or beer. It's the same concept as a car's radiator. Air flowing across the radiator fins removes heat from the circulating fluid inside.
Air-cooled chillers use ambient air to cool the refrigerant and are often used in remote locations because they don't require a water source. They work best when ambient temperatures remain between 50 to 90 degrees Fahrenheit. Ambient air is atmospheric air in its natural temperature and pressure.
If a water source is available, an air-cooled chiller can convert to a water-cooled chiller.
Water-cooled Glycol Chillers
Water-cooled chillers use a closed loop of water as the cooling source. The water flows through a heat exchanger, transferring heat from the glycol to the water, cooling the refrigerant, and reducing pressure. Water-cooled chillers are more energy-efficient and require less refrigerant than air-cooled chillers, making them a great choice when cooling high volumes of product. Water-cooled chillers work well in any climate but need a clean water source treated with chemicals to prevent bacteria growth.
Water-cooled glycol chillers use water from a cooling tower or other sources to cool the glycol, which then cools the process or product.
Evaporative Glycol Chillers
Evaporative glycol chillers use evaporation to cool the glycol, which then cools the tank holding a product or cooling bath for a process. This type of chiller is an option where water restrictions are in place.
What size cooler do you need for your process? We'll show you how to determine a suitable chiller next.
How to Size a Glycol Chiller for Your Specific Needs
To determine the proper glycol chiller capacity, you'll first need to assess your product's cooling capacity and select a chiller that can handle that amount. We measure the cooling capacity of your product in pounds per hour (lbs./hr.).
Pressure-Based Methods
The pressure-based sizing method is the most common way to specify cooling capacity. Your cooling capacity is determined by measuring the pressure in your glycol chiller and then applying a correction factor based on your chiller's inlet pressure, inlet temperature, and outlet temperature.
Flow-Rate-Based Methods
The flow-rate-based sizing method is best for non-pressurized vessels. Determine the flow rate of the vessel by measuring the time it takes to fill it with water and then calculating the volume of water. You can then use this data to determine the cooling capacity of your product.
If you need assistance, contact the chiller experts for the correct size chiller for your process.
Maintenance and Troubleshooting Tips for Glycol Chillers
Chillers are relatively simple machines and require little maintenance, but they are not maintenance-free. Here are the items you need to check to keep the chiller running efficiently.
Check Cooling Water: Treat the cooling water with appropriate antibacterial solutions to prevent growth. Regularly monitor the cooling water to ensure it is free of bacteria, has the correct pH level, and has proper levels of chemicals like chlorine.
Clean the Condenser: The condenser is the part of the cooler where the refrigerant turns from a liquid back into a gas. Clean the condenser regularly to prevent build-up from damaging the cooler.
Clean the Heat Exchanger: Clean the heat exchanger at the same interval as the condenser. The heat exchanger is essential for proper cooling.
Check the Flow Rate and Pressure: To ensure proper operation, check the flow rate and pressure of the glycol chiller monthly. A sudden drop in flow rate or pressure may indicate a problem with your chiller.
A chiller is another costly piece of equipment in your process. Is it necessary? Let's find out.
Pros and Cons of Using a Glycol Chiller
You can use either a water chiller or a glycol chiller to cool down a large tank of hot liquid. However, glycol has some advantages over water for temperature reduction and control.
Pros of Using a Glycol Chiller
Glycol chillers can operate at much lower temperatures, so you can use less energy to cool and chill your product.
They often last longer than water chillers because glycol inhibits corrosion.
Glycol can chill well below the freezing temperature of the water to create an ice rink or rapidly cool milk after pasteurization.
Cons of Using a Glycol Chiller
Glycol chillers are more expensive than water chillers initially.
They require an external glycol pump to circulate the glycol solution.
Water transfers heat more efficiently than with a mixture of glycol.
Glycol systems are an essential part of the cooling processes such as rubber, plastic, and petroleum manufacturing. Glycol Chillers are necessary for cooling processes in chemical, electronics, paper, textile, brewing, pharmaceutical, electroplating, central air conditioning, and many other industries.
No matter the industry, glycol chillers work on the same principle.
Common Questions About Glycol Chillers
Are you in the market for a chiller? Here are answers to some questions you may have.
How long will a glycol chiller last?
Glycol chillers typically last 15-20 years with proper maintenance. When a chiller requires frequent repairs or can't meet demands for capacity or temperature, it may be time to replace it. Recurring failures and lost capacity are symptoms of worn electrical components, widening tolerances between moving parts, corroded heat-transfer surfaces, and other problems due to tens of thousands of service time.
Can glycol chillers be used outdoors?
Yes, glycol chillers can be used outdoors but not in the open. As with most mechanical and electrical equipment, it should be in a sheltered area to protect them from the elements.
Do I need a glycol chiller?
If you have a high-pressure vessel (HPV) and are cooling with water, you'll need a glycol chiller. Brewery glycol chillers are ideal for cooling fermentation tanks. Here is a short list of industrial uses for glycol chillers:
Petrochemicals – Precooling a wet SO2 gas stream
Defense – Industrial process temperature control solutions with chilling, pumping, and freezing equipment
Manufacturing – Thermal process management
Recreational Sports – Ice skating rinks, snowmakers, curling rinks, and bobsled runs
Transportation – Product test facilities, environmental test chambers for hydraulic fluid engines and fuel systems, shipboard and onshore cooling, vessel dehumidification, domestic and cargo refrigeration, life support system cooling, comfort cooling, etc.
A glycol chiller is the solution if you have something that needs to be cooled quickly and at a set temperature.
What does glycol do in a chiller?
Glycol is a non-toxic, colorless liquid with a sweet scent. It works by absorbing heat as water enters a chiller tank and releasing that heat again as water leaves the tank. Glycol prevents ice from forming in the chilling tank and keeps the water from freezing.
Glycol also prevents corrosion from forming on parts of the chiller system due to exposure to high levels of ammonia or chlorine in the cooling water.
What is glycol chilled water?
Glycol is a critical part of most process chiller systems. When mixed with water, it lowers water's freezing point, enabling the cooling system to cool below the freezing temperature of water alone. The higher the glycol concentration, the lower temperatures the system can go. To learn how various ratios affect the freezing point, visit A Quick Guide to Glycol.
How cold does a glycol chiller get?
The coldest temperature will depend on the size of the chiller and the ratio of glycol to water.
For example, a light industrial chiller can fluctuate from 65°F (18.3°C) to 15°F (-9.4°C). Ultra-low deep freeze chillers can achieve freezing temperatures from a high of 70°F (21.1°C) down to -112°F (-80°C).
What type of refrigerant is glycol?
Glycol is a chemical compound manufactured by hydrating ethylene oxide. It's an eco-friendly alternative to fluorinated gasses previously used in refrigeration, which are very harmful to the environment.
Glycol is an antifreeze agent for water that has two benefits. It's environmentally friendly and results in high energy savings.
Chillers reduce production time, provide accurate temperature control and ensure consistency of any production process.
Cooling From Ales to Zinfandel
The beer and wine industries have incorporated glycol systems for decades as fermentation temperature control. Even portable homebrew glycol chillers have revolutionized the homebrew scene allowing consistent temperature control on a small scale.
Nearly every industry requires rapid and consistent cooling, from plastic injection molds to new CBD oil cold process extraction.
Do you need to cool EDM (electrical discharge machining), dairy, hydroponics, lasers, printing, server rooms, or welding operations?To find out the right Glycol Chiller Systems for your needs, contact North Slope Chillers.