Ready to Rent
Chiller rental can be a difficult area to navigate if you don't know what you need. From the large industrial chillers that can cool a building, to the smaller, portable chiller rentals for process cooling, understanding your exact needs is crucial.
Get the Details
So you want to rent a chiller! In order to know exactly what type of chiller will meet your cooling needs, you have to know the following: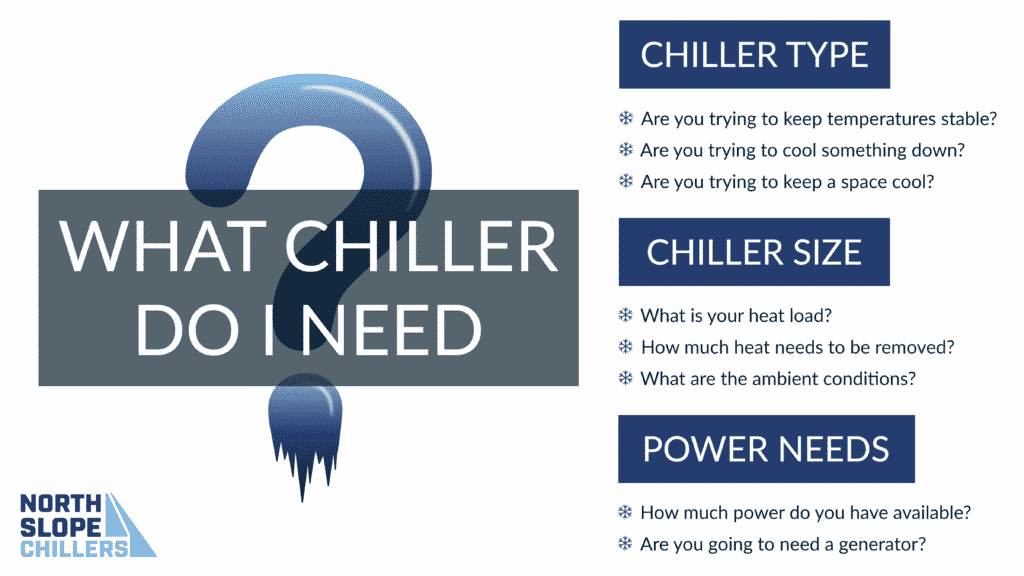 Let's break that down into detail.
Determine chiller type: What is your process cooling application? Are you keeping the temperature of your product stable? Or are you trying to cool something down? Or are you trying to keep a space cool? This will help determine what type of chiller rental you need.


Determine chiller size: What is your heat load that needs to be removed? How much heat needs to be taken out of your system? What are the ambient conditions? This is critical, since not all chillers are capable of removing the required heat. Understanding your heat load will help you know what size of chiller.


Determine power needs: How much power do you have available? Are you going to need to rent a generator as well? Chillers use a lot of power, so planning ahead based on your electricity resources is important.
North Slope Chillers
North Slope Chillers has every kind of chiller you need for keeping cool. With fluid temperatures going down to 10 ºF, easy setup and a self-monitoring control system, North Slope Chillers can make sure you're ready to take on any cooling problem.
Talk to the Experts
Not sure how to match your needs with varying types of chillers? Chat with a chilling expert to find the best chiller or chilling accessory for your needs at (866) 826-2993 or by email at [email protected].