The Best Cooling Wrap On The Market
Fluxwrap™: the most affordable, effective, industrial heating and cooling wrap on the market. Designed and produced by North Slope Chillers, Fluxwrap™ is a thermal chameleon because it can chill or warm a variety of containers, regardless of size. But is it really the best product on the market? Let's find out!
What is Fluxwrap™?
Fluxwrap™ is a versatile fluid temperature control solution for heating or cooling. This proprietary wrap comes equipped with fluid channels that can be filled quickly with either a heating or cooling liquid, depending on your needs. These fluid channels deliver efficient temperature control directly to any surface they surround. Fluxwrap™ is lightweight, compact, and easily wraps around containers of all shapes and sizes. It will also conform to uneven surfaces to maintain high thermal conductivity between the wrap and your container.
What sets Fluxwrap™ apart from the competition?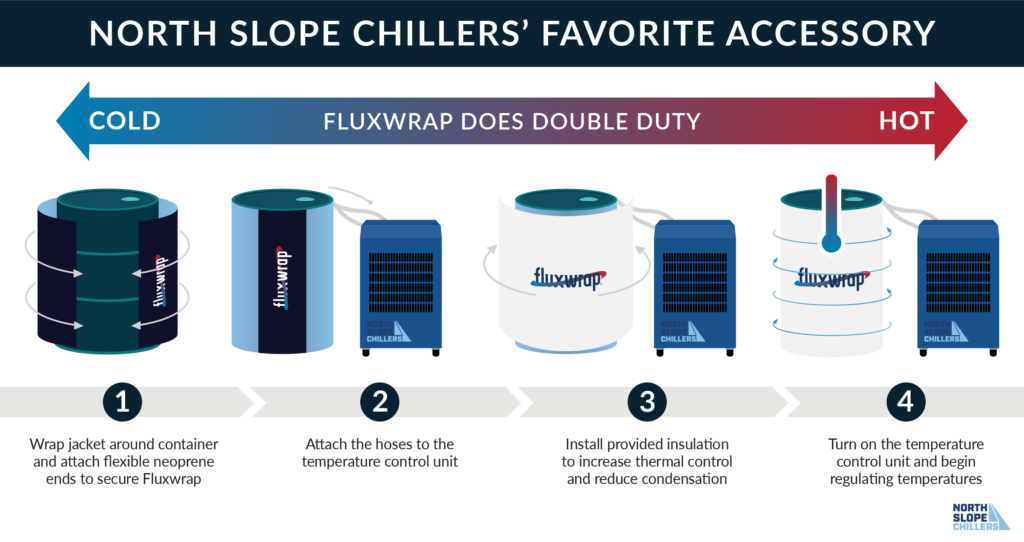 Full Coverage
Fluxwrap's fluid channels are specially designed to increase the flow of temperature control fluid, without gaps, air pockets, or drops in pressure. Durable elastic straps also hold the wrap snugly around your container to further increase thermal conductivity between the Fluxwrap™ and your materials.
Portability
Here at North Slope Chillers, we pride ourselves on flexible temperature control solutions that won't interfere with the layout of your system. Fluxwrap's lightweight and compact design makes it extremely easy to install, use, remove, and even store for future use.
Customization
Do you have temperature control needs that don't exactly match ready-to-ship product specifications? Not a problem! Fluxwrap™ is customizable to fit virtually any system. North Slope Chillers offers the fastest custom temperature solutions on the market. Our expert engineers are standing by to custom tailor Fluxwrap™ to your fit your needs.
Extra Insulation
Fluxwrap™ comes equipped with a heavy duty, white vinyl, insulation wrap. This added exterior fits easily around your Fluxwrap™ to reduce condensation, reflect heat, and provide extra insulation that keeps your temperatures right where you want them.
Total Temperature Control
Need to heat instead of chill? Fluxwrap™ is capable of meeting all temperature needs. Simply change the temperature of the fluid, and you have an effective medium for heating. Using glycol, Fluxwrap™ can heat containers effectively up to 120° F.
Affordability
Fluxwrap is the most affordable and efficient option on the market. It comes with a one-year warranty to protect against any defects.
If you are looking for an affordable wrap that is portable, flexible, and works well with any chiller system, North Slope Chillers' Fluxwrap™ is ready to meet all your temperature control needs.
For more information on Fluxwrap™, click here.